The Excalibur Diamond is created in a laboratory that replicates the natural process creating a diamond with identical physical, optical and chemical attributes as a Geological Diamond.
The Excalibur laboratory grown diamond has the same quality, beauty and is even rarer than the mined diamond. The Excalibur Diamond is a real diamond held to the same standards as a Geological Diamond.
Expert jewelers using a microscope are unable to distinguish the difference between the man-made and mined diamonds except for the laser inscription with the certificate number which proves authenticity. Only a very few gemological institutes can detect these laboratory grown diamonds.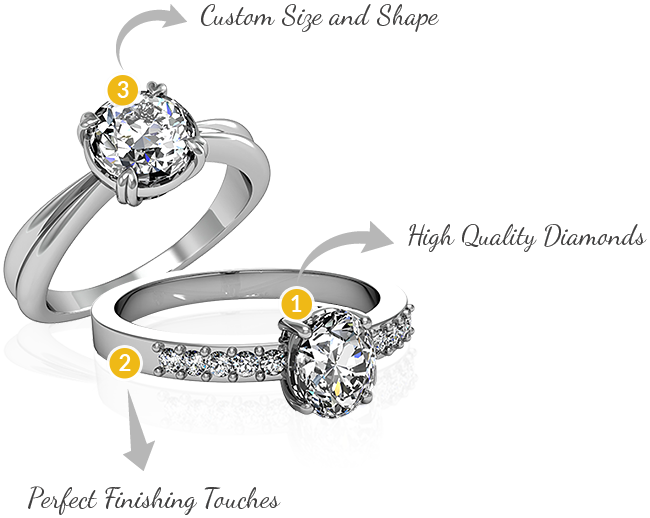 THE EXCALIBUR DIAMOND ADVANTAGE:

 Socially responsible, lab grown

 Environmentally friendly

 Conflict-free

 Sustainability of natural resources

 Greater value

 Rarer

 Type IIA quality

 Certified
Laboratory grown diamonds are available in the color you desire from the D color (colorless) to M colored diamonds as well as fancy yellow, pink and blue. 

Watch
Excalibur
Process
Video


Thank you Tom for the time you spend with us, I know we had hard time to make the decision. We appreciate the options and introducing us to the manufacturing diamonds. My girlfriend and I ( soon to be fiancé 😉 are very much to preserve nature and wellness. Knowing the origin of the diamond that it did not come from troubled areas. I know you told us that the diamonds you carry are coming from certified and reputable places. We are happy with the decision and looking forward to watch the process as the ring we ordered will be created to our specification. Once again wanted to thank you and let everyone know what a wonderful place Miners Den is and we will share it with our friends. By the way thank you for the gift, it was well used.
Jim & Joy
I have been looking all over Detroit for a jeweler that had a created diamond. I was happy to see that Miner's Den had exactly what I was looking for!
Joanna Smith
Lab created diamonds are important to me. My fiancé and I wanted to make sure that we received a conflict free diamond. Thank you Miner's Den for
Lan